Knowing I had a West Coast "office visit" on the schedule I decided to take advantage of traveling 2000 miles from home by turning the return trip into a long photographic road trip and photograph the Mountain West during Autumn. With a bit of planning I was to go in search of and hopefully find fall colors. My main target was Montana and the Dakotas, which I have photographed before, but previous trips were always during the spring and summer and I wholly expected the terrain would look quite different in the later part of the year.
But before the "photo-taking-fun" could begin I first had to haul a** and cover the twenty-four hours of driving to get to Seattle for the office visit. This time of year one never knows what type of weather might be encountered and straight out of the gate half way through the first day I hit snow storms on I-90 in Eastern South Dakota.

The local radio station newscast also made me aware that the Annual Black Hills Pow Wow was underway in Rapid City, SD, which forced me to pull up short of my day 1 mileage goal to ensure I could get a hotel room. (I've slept in my car before on coast-to-coast road trips but that was when I was a much younger man and I would never attempt forced discomfort on these old bones today.) This made for a long 11.5 hours of driving on day 2 to get me to my second planned way point -- Missoula, MT., but once I made it out of the Dakotas following what is roughly a portion of the old Bozeman Trail, I was treated to refreshing new views unlike those I get back home, such as the Bighorn Mountains.

The final day of the outbound trip was just fun, although admittedly over the years I have developed a taste for driving the s-turns through the Montana and Idaho mountains at 80+ mph and for the most part it really is straight downhill from the Continental Divide to Seattle.

I've been to Seattle numerous times since the early 90's for both work and play, but this is the first time I have been in a "good" hotel with a "great" view of downtown from thirty seven floors up, so I took in these views and the company of co-workers for a week before heading back out on the road.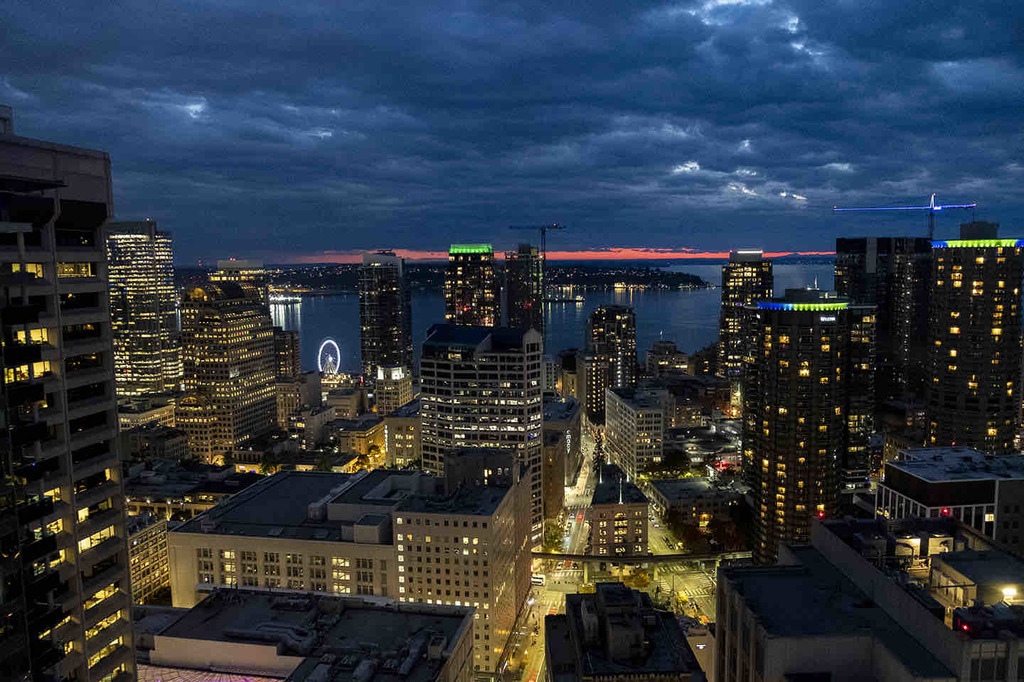 I had made quite grand plans for my return trip home: exploring the Columbia River Valley, zig-zaging my way from Northern to Southern Idaho and back up to Northern Montana before heading home, but to be honest my appetites have always been bigger than my body could handle -- especially now that I think more about retiring rather than what party to go to on the weekend. So I paired down my plans to hit two key places that I have not yet explored: Glacier National Park in Northern Montana and the National Grasslands in North Dakota. I suspected these would provide an effective of the Mountain West and Plains during Autumn.
It is definitely a solid day of driving, but one can leave Seattle after breakfast and reach Columbia Falls, MT by supper, the western access point to Glacier National Park and just minutes from the Alberta Canada border. En route you pass Flathead Lake which is massive and was clearly carved out by glaciers over millennia, but if I am to be honest it looks like a big tourist trap. However, in October the party pontoons and jet skiers are long gone and instead is a pleasant view as the long day of driving wound down.
After a good night of rest at the Cedar Creek Lodge I drove to the Glacier National Park west entrance arriving just as the park opened. One drawback of visiting National Parks during the off-season is it does not help facilitate taking sunrise and sunset landscape shots and although the lighting was not softened by dawn or dusk the peaks are so high and the weather was quite stormy the day I visited with defined clouds, snow falling on the peaks and nice contrast added by intermittent glimpses of sunlight. I think I caught some good images in challenging conditions.

I probably could simply attribute it to being quite comfortable only with the predators in my own woods back home, but Glacier National Park gave me the feeling that at any moment a Grizzly Bear could at any moment lumber out of the woods and eat me.
Checkout my channel to view more Glacier National Park images: https://minds.com/noiseunit.
My next photographic stop would be the National Grasslands Historical Site in North Dakota, but this meant I needed to drive to Williston, ND by nightfall so that I could reach the Theodore Roosevelt National Park the following day for the morning light. It sounds easy enough, just drive across Montana, only one State, but Montana is 667 miles wide and to give you some perspective that is roughly the equivalent of driving from Boston to Virginia Beach or nearly half the length of the entire I-95 corridor on the East Coast in one day. Yes, a long way, but also yes, quite beautiful.
If I could go back and redo one portion of the trip it would have been taking time to photograph along the drive East as I departed the Glacier Park area. That morning I departed early, before sunrise, and as I snaked my way on the snowy, foggy and abandoned Highway 2 I for the first time white-knuckled the tense drive. However, when the sun started coming up I was in awe of the scenic views -- and I was all alone. Not another car did I encounter until I exited the Lewis and Clark National Forest. Instead, I forged on as one sometimes is compelled to do after haven already driven close to 3,000 miles by this time on the road trip.
Highway 2 traverses Central and Easter Montana by generally following the Missouri River and all along this route it is incredibly easy to envision the roaming historic herds of Buffalo and bustling Native American encampments along the banks. Equally so, it is also not difficult to imagine blue-uniformed horseman, canon in tow, weaving in and out of valleys in search of "settlement incursions".

Upon entering North Dakota it is clear that what they say is true about the area, all built up with new oil money. Indian Reservations in the area can be identified by the worn out double-wide mobile homes often accompanied by broken down equipment scattered in the yards. Ironically, the new oil workers residences are also double-wide mobile homes but new, densely situated, and void of decorations of any sort (except an abundance of new pickup trucks). Simply put, very barracks like in appearance.

I have photographed The Badlands in South Dakota many summers ago and although the erosion-scarred landscape definitely shares characteristics with that of Theodore Roosevelt National Park, the seasons make a for a very new photographic image from those I created years ago. As the sun rose high in the late morning sky the landscape light flattened signaling it was time to move on and start the final leg home.
Checkout my channel to view more Theodore Roosevelt National Park images: https://minds.com/noiseunit.
I drove south on Highway 85 then east onto State Highway 200 on my way to intersect I-94 for my final eastward push home and along the way I drove through Dunn Center in Dunn County. Actually, Dunn Center might be the only actual "town" in Dunn County making it the County seat and in the town there was a Cenex Quick Stop (with Pizza takeout), brand new County courthouse and government offices (I think oil tax money paid for those) and only one other business -- the Dog House Bar, which has blackjack on Fridays and Saturdays in case you are interesed.

The drive across North Dakota along I-94 was amazingly windy. If I looked far enough ahead at the 18-wheelers movements I could preemptively brace myself for upcoming gusts. Also, at 85 mph any passing of semis or RVs resulted in violent wake turbulence once my vehicle nosed ahead.

The view along I-94 could definitely be considered sparse, but for me there were two primary elements in the landscape. First, there are massive fields of canola plants waiting to be harvested. I noticed this in South Dakota too on my way west, but in South Dakota the canola fields were broken up by equally large fields of sunflowers. The other element in the landscape that kept catching my eye were the fields of large round hay bales. This is not an unusual sight by any means for my Iowa eyes, but having spent the morning viewing bison I suppose seeing the "herds" of hay bales in the rolling grassland covered hills of North Dakota influenced my imagination and all I could see were implied bison bodies roaming the prairie.
Heavy rain developed in the afternoon and as it combined with the heavy wind the pelting eventually wore me down and I had to call it quits shortly after sunset in Fergus Falls, MN. The following day I would be home in time for a nap and my Mountain West photographic road-trip would come to an end. The trip marked what I believe has been my 12th traversing of the Continental Divide by car. Another 4,000 road miles logged. (I stopped counting the total miles traveled long, long ago.) But of most important was a re-ignition of photographic exploration -- a fire that must continually be fueled.
-- noiseunit --

Links
Bozeman Trail - https://youtu.be/_7YhMJutbQc
History of Auto Touring - https://youtu.be/SIW2-bH84u4
Glacier National Park - https://www.nps.gov/glac/index.htm
Theodore Roosevelt National Park - https://www.nps.gov/thro/index.htm
Theodore Roosevelt Western Experience - https://youtu.be/e_lc4th0w7I