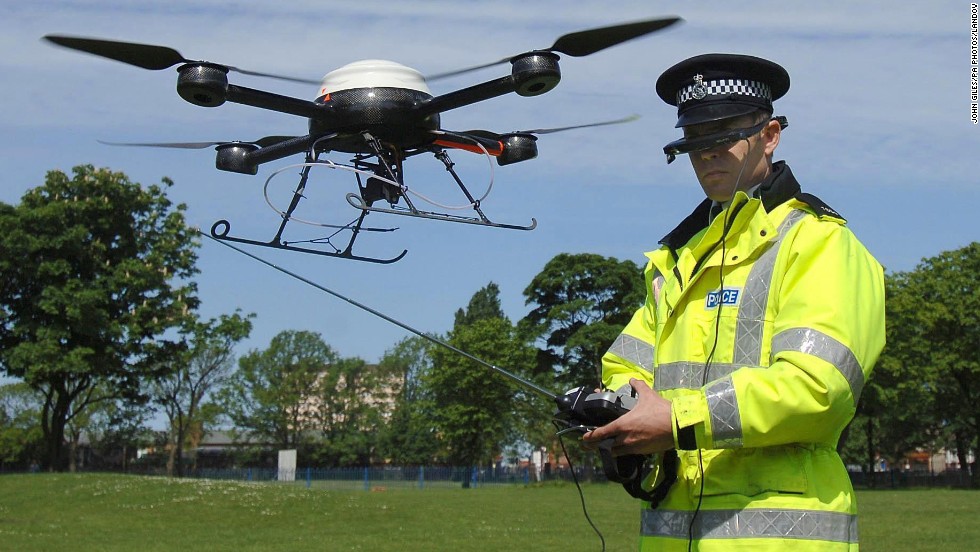 Image source:

https://i2.cdn.turner.com/cnnnext/
On May 10, the US Department of Defense Advanced Research Projects Agency (DARPA) unveiled a project with the unweildy title 'Urban Reconnaissance through Supervised Autonomy (URSA) program,' which lays out its policy on reconnaissance, surveillance, and target acquisition within urban environments.
The primary aim of URSA, is to evaluate the feasibility and effectiveness of blending unmanned aerial systems, sensor technologies, and advanced machine learning algorithms to "enable improved techniques for rapidly discriminating hostile intent and filtering out threats in complex urban environments," said FedBizOpps. In other words Robocop is being partnered with Robospy.

DARPA provides a simple scenario of what a URSA engagement would look like:
"A static sensor located near an overseas military installation detects an individual moving across an urban intersection and towards the installation outside of normal pedestrian pathways. An unmanned aerial system (UAS) equipped with a loudspeaker delivers a warning message. The person is then observed running into a neighboring building. Later, URSA detects an individual emerging from a different door at the opposite end of the building, but confirms it is the same person and sends a different UAS to investigate.
This second UAS determines that the individual has resumed movement toward a restricted area. It releases a nonlethal flash-bang device at a safe distance to ensure the individual attends to the second message and delivers a sterner warning. This second UAS takes video of the subject and determines that the person's gait and direction are unchanged even when a third UAS flies directly in front of the person and illuminates him with an eye-safe laser dot. URSA then alerts the human supervisor and provides a summary of these observations, warning actions, and the person's responses and current location."
The URSA program is a two-phase, 36-month development effort. The first phase of concept/development will begin in the first quarter of 2019 and continue into the second half of 2020. Phase two will start in the third quarter of 2020 and continue through 2022.'