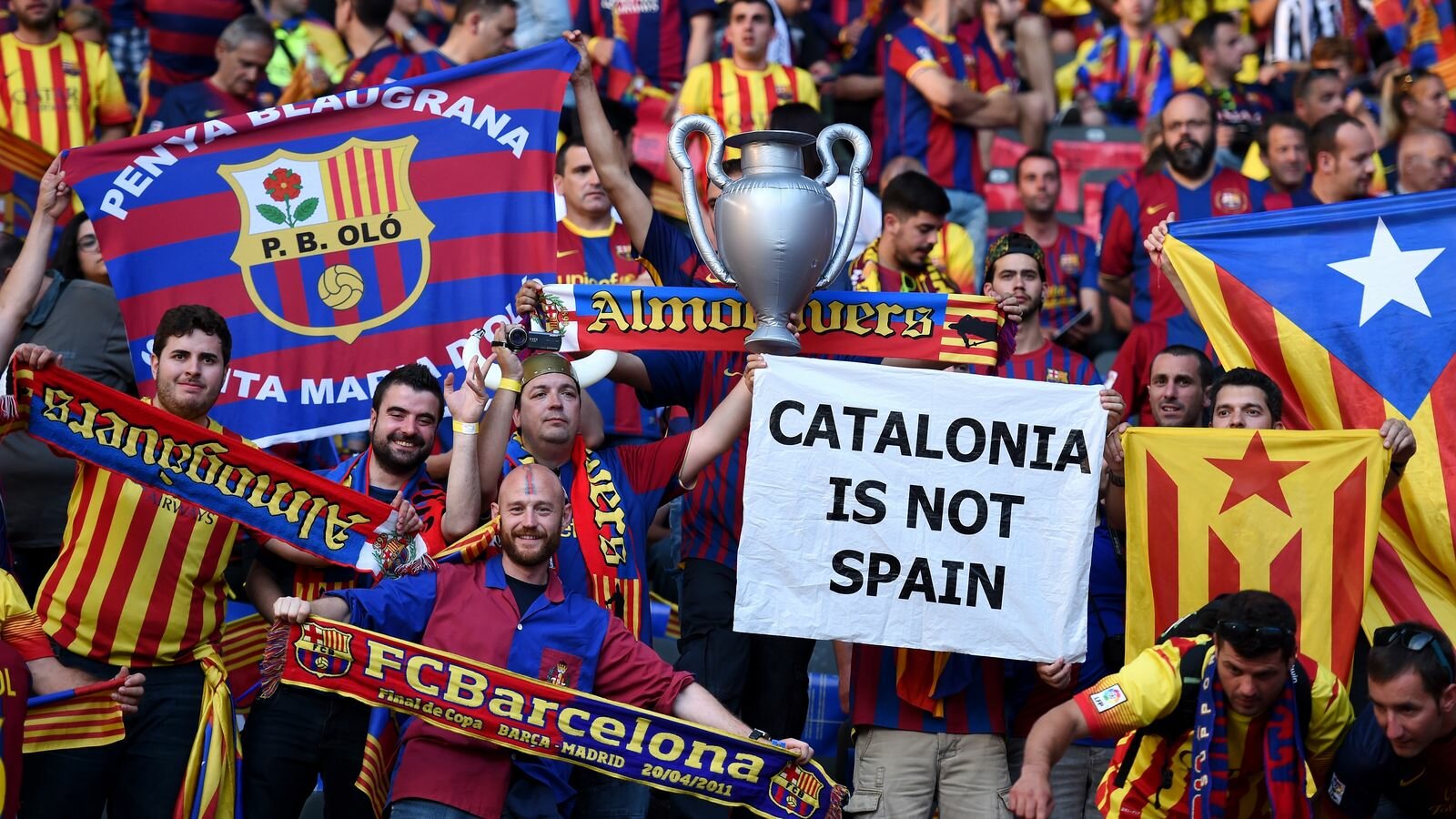 Barcelona supports foodbll and Catalonia - Image source: grup14.com
#europe #spain #democracy
Following the brutal but inept attempts by the Spanish government to suppress Catalonia's independence referendum last weekend, Spain's constitutional crisis is rapidly spinning out of control. Catalan leader Carles Puigdemont is set to make a statement at 9 p.m. (1900 GMT) on Wednesday, after an all-party committee of the region's parliament met to agree a decision on independence. The outcome of that meeting was a forgone conclusion and just moments before this article was posted, CUP, the pro-secession party that is a majority in the Catalan parliament, has announced it will declared independence from Spain in plenary session on Monday, El Pais reports.
As reported last night, Puigdemont told the BBC his government would ask the region's parliament to declare independence when all votes from last weekend's referendum are counted. This is a formality, despite Spanish national police using anti - riot tactics to disrupt the vote and overwhelming majority have voted for independence. The government in Madrid has offered no response except to say the vote was illegal.
Puigdemont's comments came on the heels of Spain's King Felipe VI accusing secessionist leaders on Tuesday of shattering democratic principles and dividing Catalan society, as tens of thousands of Catalans took to the streets to protest against a violent police crackdown on Sunday's vote.
Both Spain and the EU have been rocked by the Catalan vote and the violent response to it from national police, who even clashed with members of the Catalan province's police force as they tried to protect voters from national guard officers in riot gear. Witnesses and amateur video recordings confirm batons and rubber bullets were used in efforts to stop people voting. Hundreds were injured, in scenes that brought international condemnation.
At this moment it is unclear what Madrid's response will be if or when, Catalonia follows through on its threat to declare independence.There are a number of options but it seems likely that any move to stop the breakaway will only deepen divisions. Other spearatist movements in Andalucia, the Basque region and the Baelaric Islands are reportedly encouraged by the result of the referendum in Catalonia.
RELATED POSTS:
EU refuses to condemn poll 'brutality' by Spanish police Shortage Of Virgins Threatens To Cause A Crisis In Spain Soros: The European Union Is Now In An "Existential Crisis" Fears Over Threat To Sovereignty Could Wreck EU European Army Plan EU Vows To Use Powers To Block All Elected 'Far Right' Politicians From Power Disillusionment With EU Grows as Swedish Support Slumps By 30% Adolf Hitler: His Part In Europe's Downfall BREXIT vs. GREXIT – The Truth About The European Union And How It Treats Members< br />Spain's brutal Attempt To Suppress Demoracy Backfires