At the age of 28, Judy McKim's adopted son, Zachary, has the mind of a toddler. He doesn't understand words, wears a diaper and a pacifier and, according to his mother, almost got killed by police in a recent confrontation.
Earlier this week, a neighbor called the cops on Zachary, telling them that he had flown into a rage. When police arrived, they subdued him by kneeling on his chest, despite McKim's warnings that he was autistic and didn't know what a gun was.
Though no charges were filed against Zachary, it was left out of the police report that they touched him. He was taken to the hospital for injuries and McKim has taken the situation into her own hands to avoid this kind of danger in the future.
She painted a giant warning on her garage door.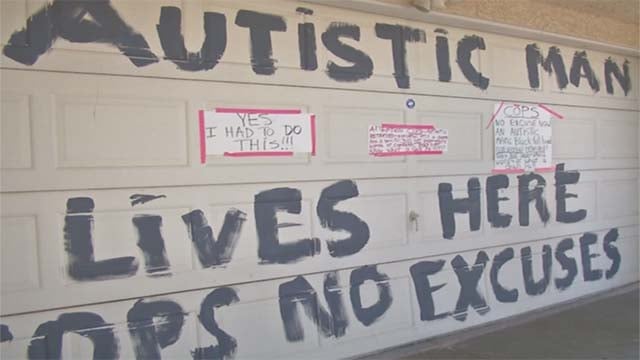 "I wanted to make sure that they knew everything. That he is still in diapers, doesn't understand words, doesn't understand what a gun is," she told KTNV. "He's autistic, he doesn't know what's happening. He doesn't know what police is."
"I don't like doing this. I'm embarrassed. I'm embarrassed that everyone knows, I'm embarrassed that I'm on TV. I'm embarrassed that you guys are seeing my life, but that's reality."
"It scared me this bad," she added.