Because of the huge development in effectiveness and size of solar panels in the last 10 years, designer Jesper Frausig was able to create a bicycle with panels in the wheels that can go up to 30 mph.
The on-board battery resides on the down tube. At capacity, it can run the bike for about 43 miles. According to Frausig, "The on-wheel solar cells deliver clean energy directly to the battery. While the Solar Bike is standing still, it charges the battery. When it is in motion, the solar cells and the battery provides energy for the motor."
Not all the questions have been answered, like how long does it take to charge, but if you are looking for an electric bike that never needs to plug in it is now available.
Here is a promotional video with funk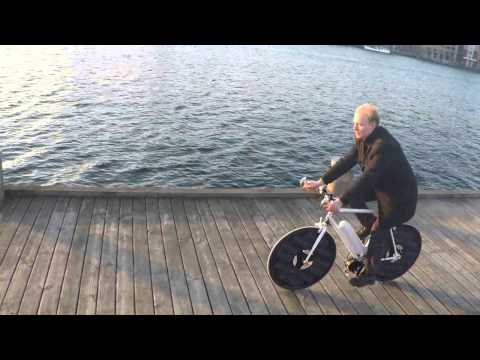 Image Credit: http://www.engadget.com/2015/04/06/the-solarbike-is-a-very-real-thing/#continued
http://www.ubergizmo.com/2015/04/solarbike-looks-right-out-from-the-future/
http://www.autoevolution.com/news/solar-bike-is-a-green-two-wheeler-with-integrated-solar-panels-it-needs-no-plug-in-charge-video-94151.html