By using radio waves that are already present, the researchers from the University of Washington have enabled devices to talk to eachother by reflection. They harvest what is known as "ambient backscatter," radio waves from tv towers and cell phones, enabling routers to send out a consant RF signal and speak to eachother with a type of binary. When the signal hits an object, it's treated like a 1 and can be converted into DC power with a 'rectifier.' A DC-DC converter can increase the voltage to produce usable electricity.
"We have a huge Wi-Fi infrastructure already in place," said Vamsi Talla, a PhD candidate at the University of Washington. "If we can repurpose existing infrastructure for power delivery as well, then we can actually enable wireless power delivery in homes and offices."
This is a dream come true, and is not surprising that it hasn't been plastered all over the nightly television news. Many of the corporations that run central media organizations also have strong ties with the copper industry and want to keep people wired (as well as buying electricity). Regardless, the technology exists and people will soon be using items powered by wi-fi.
Here are two cards; one that changes the data of the other without any external electricity (video below)
Severely intriguing, this technology allows things to connect to eachother and can give the power of data to every day items (like keys, hats, and really anything else you can think of). By harnessing the already prevalent radio waves bounding around the Earth, they can ping eachother and deliver information, as well as power. You can read the paper, in which they describe how we will power "the next billion devices with wi-fi."
Tesla is amped.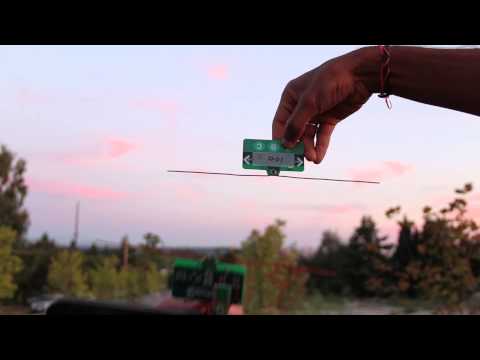 http://inhabitat.com/video-nikola-teslas-dream-is-finally-a-reality-with-wi-fi-powered-electronics/