Hello to all and welcome to my ICO review . For those of you who don't know me yet, let me introduce myself. My name is Funke and I'm an experienced writer who enjoys what he does very much. I'm here to give you all the information you might need or want about The Blockchain for K-Pop Concert & Incentivised Hallyu Commuinty. I plan to make them "easy read, to the point" because what's important to me is that we all comprehend and absorb the information and actually want to be here learning together about something new.
Today, let us all learn and experience together all about KSTAR Coin. If you don't know anything about them, don't run away, that's why I'm here, to change that within the next few minutes. Before I begin, I just want to quickly mention that I will be including LINKS so that YOU can do your own research or whatever you feel you need. I feel it's best to have all of the information in one place, in an organised manner, rather than dotted about the page making what you want hard to find or confusing. All these links will be put at the BOTTOM of this page to keep things easy.
KStarCoin is a blockchain-based cryptocurrency on Ethereum ERC20. It was developed to enable decentralized exchange and all forms of smart contracts by utilizing Ethereum's safety and technology. KStarCoin is able to activate P2P-type transactions between individuals even before registration, and is optimized to implement smart contracts that require high reliability and transparency, such as crowdfunding campaigns and payments.
Therefore, KStarCoin can be used for various Hallyu-related business transactions, such as "K-Pop performance crowdfunding," "K-Star performance ticket sales," and "K-Star goods sales," through our own platform developed from blockchain technology, which will be the center of Hallyu-related currencies that are traded securely and actively between KStarLive.com's over 8 million followers and Global Hallyu fans.
I am going to get straight to the point of who they are since this is such an important factor, as I like to put it, "The Brains behind KSTAR Coin". If the team behind the product or service in question haven't the resources or knowledge, then we know the product or service delivered will possibly not have the quality it should have. We need to know two very important things when we look at a new starting up company:
Who are the people/team behind this?
What experience and knowledge do they possess?
Okay, so, because I've already done all the research needed beforehand and thoroughly KSTAR Coin I can very happily confirm that this company has a fabulous team onboard. Here they are: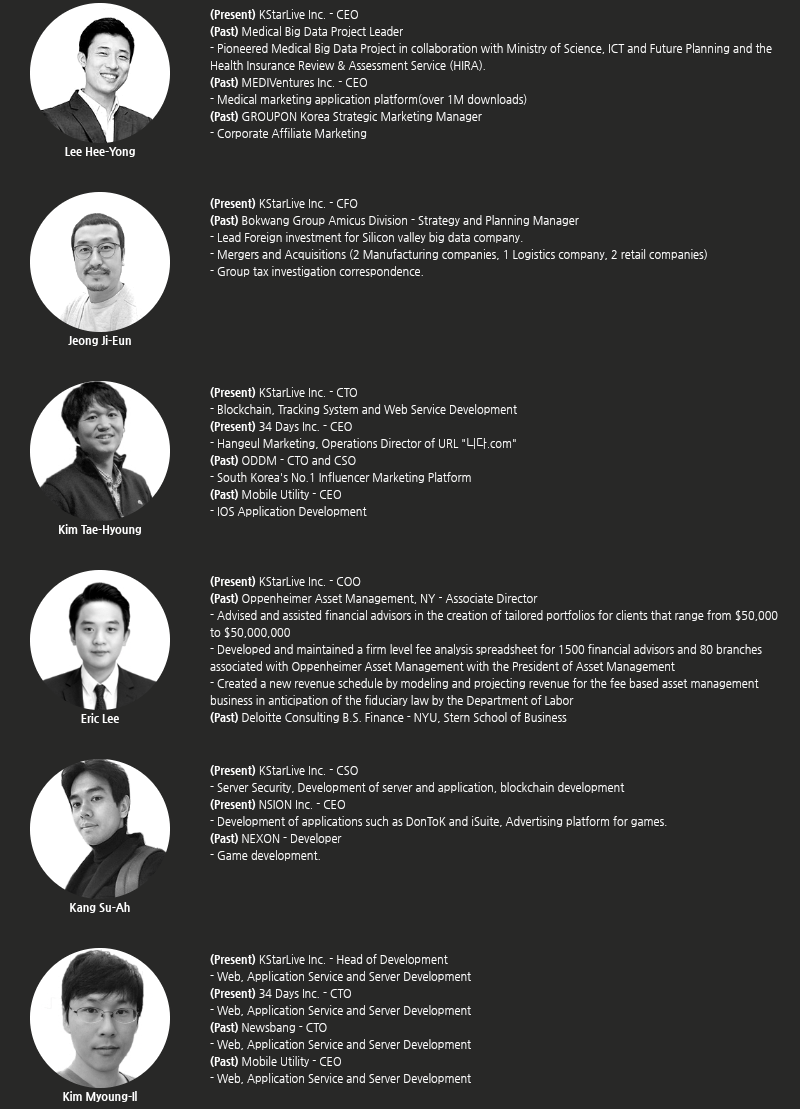 BENEFITS
Crowdfunding with KStarCoin
• Funding Participants: Participants will be eligible to share in concerts and events profit, which will be paid via KStarCoin. For VIP funding participants who support their favorite stars and reach a certain VIP funding threshold, KStarLive will be providing VIP tickets and also opportunities to chat with the stars directly.
• Ticket Buyer: Events/promotions will be held via KStarLive and tickets can be purchased at a discounted rate when bought with KStarCoin. Also special VIP tickets and limited edition goods will only be available for purchase with KStarCoin.
• Ecosystem: Decentralized ticketing issuance and tracking in partnership with entertainment companies and event agencies will enable the ability to block ticket scalpers, who typically purchase large number of tickets and re-sell them at 2 to 3 times the price on numerous different sites.
Commerce with KStarCoin
• Customers: Customers who purchase with KStarCoin can receive discounts and bonus items.
• Product Suppliers: Depending on the amount of KStarCoin the Suppliers has the greater the discount. Payments for advertising fees, etc. can also be paid with KStarCoin.
• Loyalty Points: Every purchase made with KStarCoin, we will be providing membership points which can be converted into KStarCoins.
PROBLEMS
• Global fans do not have the opportunity to attend concerts and shows like domestic fans
• Tickets of scalping problems: Performers, fans, and the show's organizers are all affected
• Lack of media to introduce products
• different payment methods for each country
• It's hard for global fans to communicate and meet Kstars
• global fans lack the means to send gifts or letters to favorite Kstars there like domestic fans
SOLUTIONS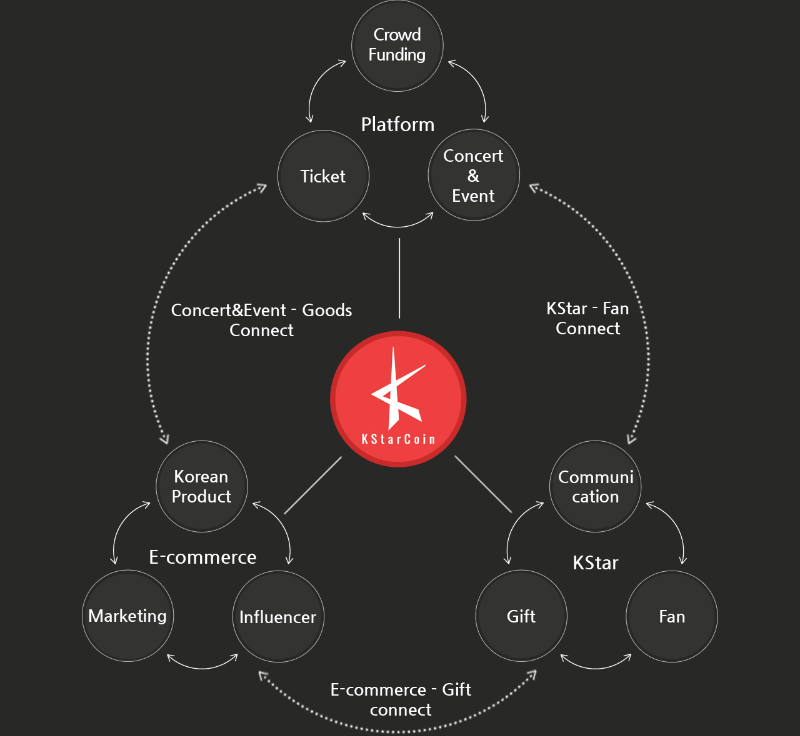 KSTARLIVE
KStarLive.com is a worldwide news and video curating service that provides K-Star, K-Pop and K-Drama news to Facebook users worldwide.
We select a number of Hallyu-related video contents produced by various media and fans around the world, and we provide the content of the selected videos in English.
Established on May 2016, we have reached 8million followers by October 2017, and is the number one global Korean entertainment news page on Facebook.
Hallyu Market
K-Pop Market
Korea's K-Pop marketplace is saturated, and the quantity of ability entertainers reaches 1 million, and the wide variety of registered enjoyment organizations is over 2100.
On average 10-15 new idols' debut each month, so it's far very tough to prevail inside simply Korea.
As a result, leisure in Korea is regularly seeking to go into the remote places markets, especially China, Southeast Asia, and South America.
Due to diplomatic troubles among South Korea and China, the expectations for the Southeast Asia and South American markets are better and we are making efforts to strengthen into those markets.
Despite the truth that maximum enjoyment groups and newcomers are seeking to enter foreign places markets, it is not clean for them due to loss of funds and worldwide marketing channels.
K-Drama & Movie
Broadcasting and film manufacturing businesses have export objectives for video content material and production technologies, and are actively involved in different organizations which include live shows, splendor, and fashion related to visual content.
In precise, Korean dramas are playing the recognition of K-Pop, and their subsidiary business is actively pursuing globalization.
Although there are numerous video contents being produced and in search of to enter the remote places marketplace, they're having problem in locating a rustic or international accomplice which can cross beyond in reality exporting video content and linking them with a subsidiary commercial enterprise.
K-Beauty and Fashion Market
Korea's cosmetics and splendor market has conquer home market saturation through access into the Chinese marketplace, however these days it has entered a length of stagnation due to diplomatic problems with China. As a end result, many splendor and style companies within the worldwide market are actively searching for new markets in Southeast Asia and North America.
The largest boundaries to access into the Southeast Asian market are that there are specific charge structures in each united states of america, no systematic logistics gadget, and no commerce website online to integrate the entire Southeast Asian marketplace.
Recently, numerous Southeast Asian websites, together with LAZADA and Q10 are active, but they're additionally encountering numerous issues which includes settlement troubles and logistics prices. Until now, no one has been capable of fulfill the preference of manufacturers and purchasers for an integrated commerce website online which could immediately sell Korean beauty and fashion products distant places.
KStarCoin is ICO Business Model
K-Pop Domestic and Overseas Crowdfunding and Ticket Sales
Establish a device for crowdfunding home and overseas K-pop performances with KStarCoin, and at ease performances and earnings by working with government businesses such as the Korea Tourism Organization, and home and foreign places broadcasting businesses.
KStarCoin estimates transaction amounts and price ticket income could be $500,000 to $2M per overall performance, and KStarCoin transactions of $20M to $50M or greater can be achieved with 10 to 50 concert events consistent with year.
K-Beauty Commerce Sales and Marketing
Introduce Korean splendor and style products to KStarLive's followers and build a transaction system with KStarCoin which will purchase from KStarlive.Com's own trade web page and affiliated commerce sites.
"To buy Korean splendor and style merchandise all you need is KStarCoin" is the lifestyle we are able to develop. KStarCoin becomes the main forex for international purchases of any Korean beauty and style products.
KStarLive to establish an influencer network primarily based on Facebook for advertising and marketing, and compensates Influencers with KStarCoin.
KStarLive's Broadcast Donation and Gift Crowdfunding
Real-time communique with K-Stars and worldwide lovers thru Facebook, YouTube, and many others., and construct a device to pay for stay broadcast just like (YouTube Super Chat, AfreecaTV Star Balloon idea) with KStarCoin.
Fans round the world might now have the capability to ship items to their favorite K-stars together with candies, birthday greeting or congratulatory messages on a subway or bus billboards, and many others. Via a crowd funding gadget the use of KStarCoin.
Summary of KStarLive BM & Blockchain Integration
For every of KStarLive's commercial enterprise models, there are large desires for blockchain & decentralization era desires to boom transparency and attain for K-Stars & clients.
KStarCoin Growth Point
KStarLive.Com's user and income boom will make contributions notably to the value of KStarCoin. Though it's far extraordinarily hard to forecast cost of a coin, KStarLive.Com plans to maintain to function thru inner metrics & index on the way to be shared with the network as the business keeps to develop.
Concerts and goods from crowdfunding through KStarLive.Com might be featured to their personal fans and K-Pop fandoms, so KStarCoin can be actively traded with the aid of KStarLive.Com's followers and K-Pop enthusiasts.
Tickets for a number of K-Pop concert events, together with the Busan One Asia Festival and the Korea Music Festival, which had been held on September 2017 and October 2017, had been bought out inside 10 minutes and scalped tickets were being resold at 2-3 times the unique rate. If KStarCoin is used for price ticket income it will increase activity and offer customers a greater convenient experience and more secure transaction.
KStarCoin is projected to will increase annually at the side of KStarLive.Com's increase via K-Pop concert events crowdfunding, price tag sales, and and so on.
KSTAR COIN AND ICO DETAILS
KStarCoin is a blockchain-based cryptocurrency on Ethereum ERC20.
Symbol: KSC
Type: ERC20
Price: $0.05
Total Supply: 1,000,000,000 KSC
Soft Cap: 90M
Hard Cap: 450M
The minimum participation amount for KStarCoin ICO is 0.1 ETH.
ICO Starts June 25th
Coin Distribution and Use Of Funds

Economy of Double Token
KStarCoin's token economy consists of 2 tokens and is uniquely designed to be beneficial for token holders, dapp developers, partnership firms and all other participants of the ecosystem.
KStarCoin(KSC) will be used for purchasing exclusive goods or services such as concert ticketing, crowdfunding and exclusive licensed goods. Depending on the amount and time held, you can be eligible to receive additional benefits.
KRCoin(KRC) is South Korea's stable coin,with the purpose for real day to day commerce and transactions. It will be pegged to the Korean Won and will operate in a high speed blockchain platform to enable free and fast transactions.
By being active on KStarlive's community platform,users will be able to get KRC in rewards as well as KSC in selected bonus rewards when applicable.
ROADMAP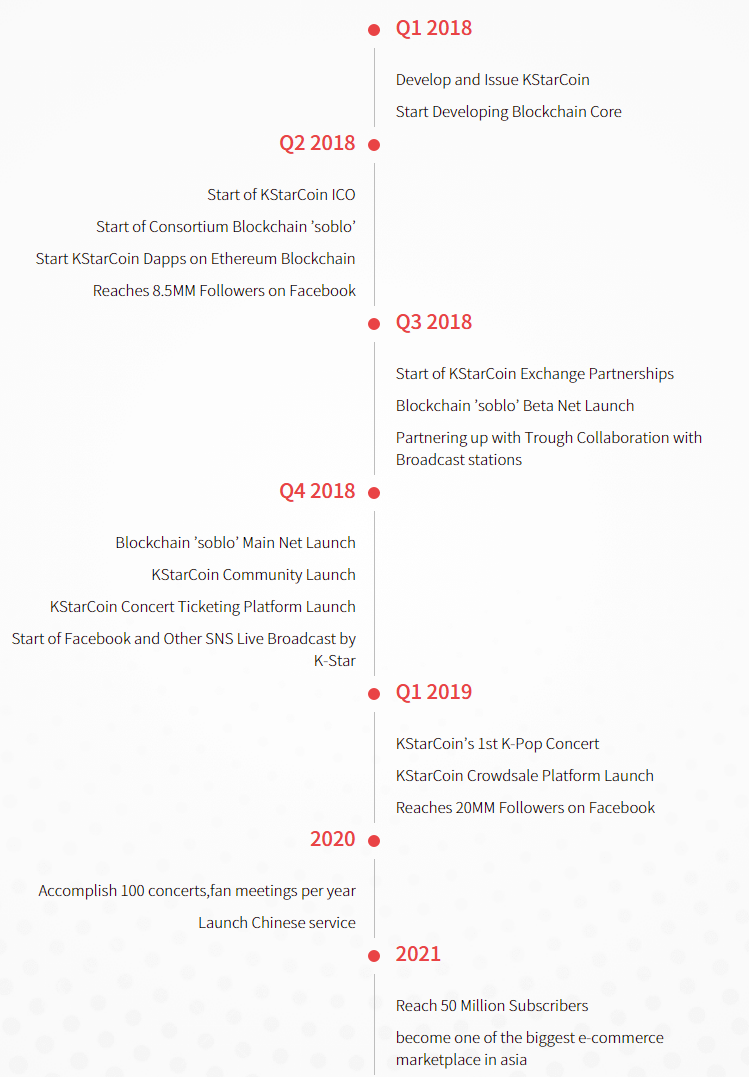 In conclusion, KStarLive.com is composed of things that fans can sympathize with and are interested in but were not able to reach before, such as "idols performing in the rain at Korean university festivals," "behind-the-scenes footage of popular dramas," and breaking news stories like love scandals. The use of the name "K-Star" extends the K-Star brand, which is well-known for K-Pop, K-Drama, and K-Beauty, to become the comprehensive K-Star, which easily captures the various cultures and products it stands for.
For more information, please visit:
Website: https://kstarcoin.com/
Whitepaper: https://kstarcoin.com/download/KStarLive_KStarCoin_ICO_Whitepaper.pdf
ANN Thread: https://bitcointalk.org/index.php?topic=4595272.new#new
Medium: https://medium.com/@KStarCoin/
Facebook: https://www.facebook.com/kstarlive/
Twitter: https://twitter.com/KStarCoin
Telegram: https://t.me/joinchat/GeOUSUZPyVpuOHvUMHmKkQ

Author : funkyies
BITCOINTALK PROFILE: https://bitcointalk.org/index.php?action=profile;u=1971452