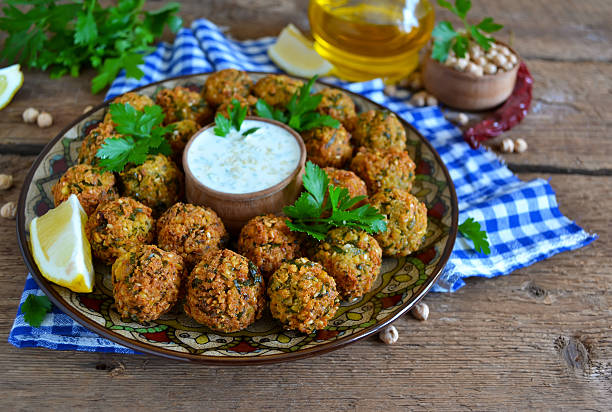 For those who have no idea what falafel is, well this article is going to enlighten you. Falafel is a cultural icon in Lebanon. It is a type of food made from chickpeas which are soaked, ground and then mixed with spice to give it a unique and mouthwatering taste. The spices used include chilli, garlic, coriander, cumin and many more. The last method of preparing Falafel includes frying it until its golden brown and later on served as a snack. Aside from being a delicious snack, did you know that falafel has a number of nutritional benefits? Here are some of the benefits of falafel you need to know about.
Falafel is heavily loaded with vitamins and minerals that are very good for the body. Chickpeas have a range of vitamins and minerals that are crucial for healthy bodily function. They include iron, magnesium, phosphorus, zinc, potassium and many more.
The other advantage of falafel is that it is low in calories. Chickpeas are very low in calorie count as compared to other dishes that contain high-calorie meats like kebabs and shawarma. If you are somebody who likes keeping it healthy, you should go for falafel instead of the other dishes that are quite delicious too but very harmful to your health.
Falafel is also very low in sodium. If you want to maintain a low blood pressure, you should ensure that your diet is also very low in sodium just like falafel. Therefore, it is crystal clear that falafel is not only a snack but a ball full of nutritious benefits that should not be ignored at all.
Did you know that falafel improves female health? Well, there is some good news cooking ladies. The chickpeas in falafel can help reduce your risk of breast cancer, protect your body against osteoporosis. Additionally, it could also reduce hot flashes post -menopause.
By eating falafel, you will be able to boost your red blood cells production in the blood. As we all know, red blood cell carry several functions in the body system. One of their functions includes transporting food and oxygen around your body all through your life. Chickpeas in the falafel mix are very rich in iron and that is why they are highly recommended.
With all the benefits mentioned above, I am positive your next snack will be falafel and not fries or crisps. You only need to know how to make it by researching falafel recipe online or asking a friend to help you out.
Please visit https://www.youtube.com/watch?v=scRAPzwqVrk to learn more related information.