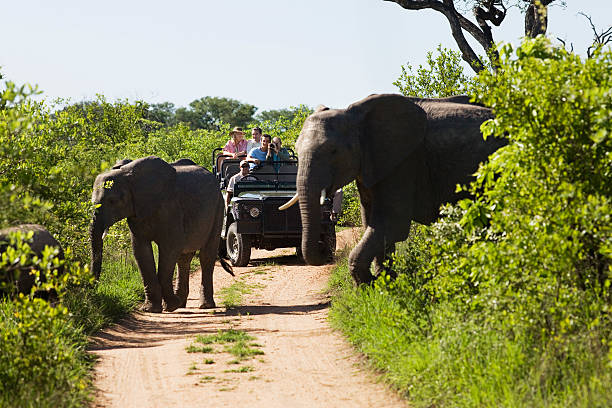 South Africa is well recognized for playing a vital role in the importance of wildlife conservation. This is part of tourism appeal that is used to encounter threats such as poaching, development pressure to wildlife among others. With this animals have the free will to migrate freely within their natural ecosystem. An excellent example of such an ecosystem is the Kruger National Park.
Kruger National Park is situated on the northeastern side of South Africa. It is regarded as being among Africa's most prominent national parks. This park does have a high number of the 'big five' animals. The 'big five' are known to be the top reason why most tourist visits this park. They include the Lions, Elephants, Buffalos, Leopards and the Rhinos. There are also other mammals that have found habitat in this enormous park. The park too does have a wide variety of birds species that people visit to see and learn more of.
The most breathtaking part of it is that the park does have an excellent landscape. There are mountains; the bushes are plain creating an easy way to have a clear view of the serenity. The tropical forest to adds on to the landscape having a good terrain. With such kind of an environment, people can have game drives that will give them the access to have an up close of the wild animals; some can have hiked on the mountains and the tropical forest as well.
For those who choose to visit this national park will have arranged tour packages that people can enjoy. The accommodation facilities found within and also in part do have the needed services that people would desire. The tented camps are the best for they feel like nature and are situated in a safe zone making it easier for Kruger National Park tourists to enjoy the magnificent view they wake up to.
Guided game drives are the best as tourists will have vans and rovers that will be driven in the park as people will be conducted by a professional. The tour guide is well equipped with the terrain and the knowledge of the animals as well as their habitats and ways of living. This does enable tourists to ask questions and learn more as most of them are there for research others to have fun and enjoy the great serenity the park has to offer. There are many fun-filled activities that people can enjoy while visiting the Kruger National Park.
You might also want to check out https://www.youtube.com/watch?v=c8i0hjegneY for related stories and information.