They call him "The Iceman," because he can survive in insane temperatures for long periods of time. He attributes this to his rapid and sustained breathing technique.
He's found that, not only does it allow him to handle super-cold temperatures, but it also gives his body defenses against disease. He has linked his body up to scientific observation devices to prove it.
Here he is, doing a demonstration at a TedX talk
By controlling his autonomic nervous system he is able to maintain his core temperature and heart rate, even when submerged in ice for over an hour. The exposure and consistant blood circulation increases the power of his immune system.
Ultimately, he attributes his success to the power of the mind and his breathing technique.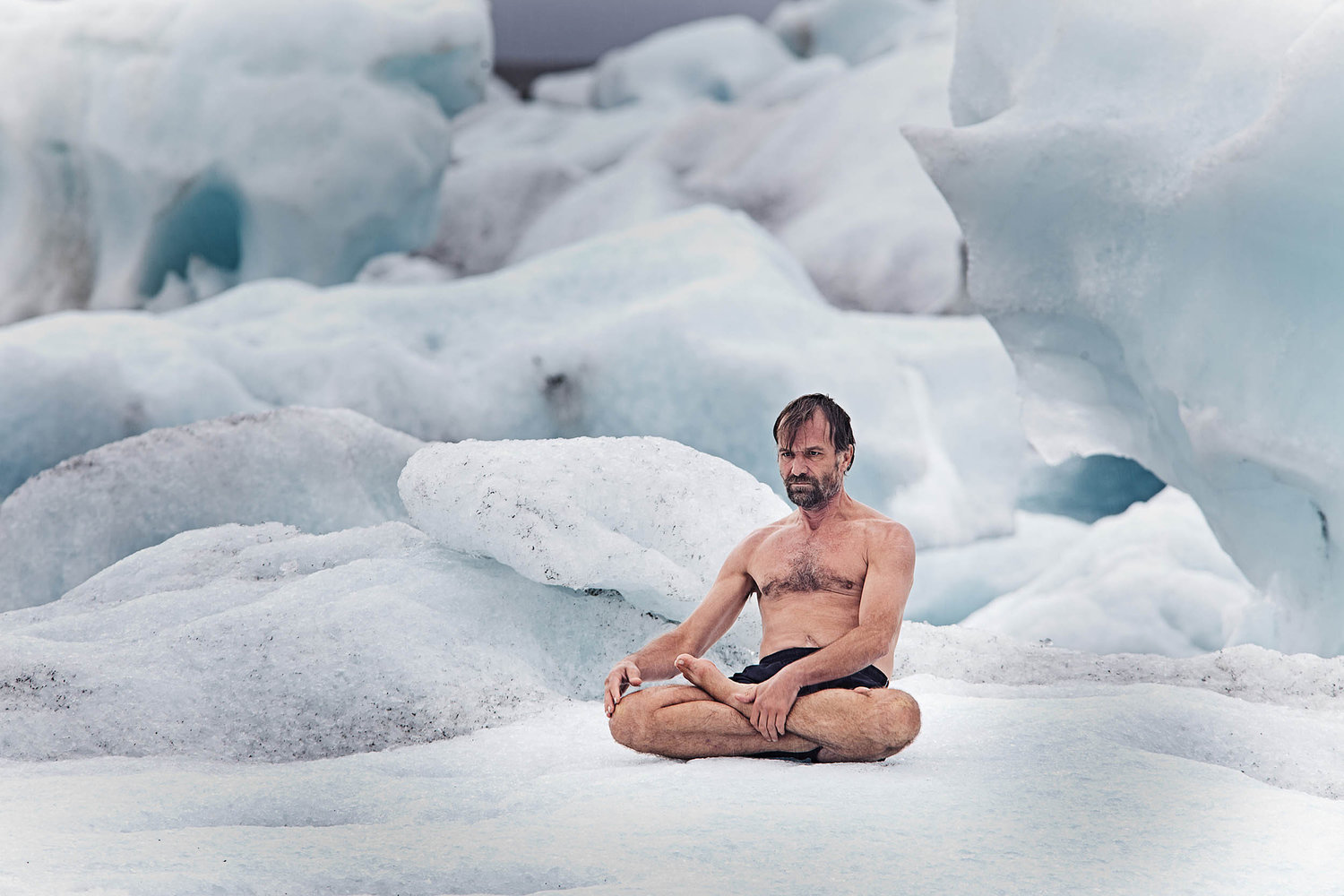 Hof holds 20 world records, including a world record for longest ice bath. Wim describes his ability to withstand extreme cold temperatures as being able to "turn his own thermostat up" by using his mind through yoga.
2007: He climbed to 6.7 kilometres (22,000 ft) altitude at Mount Everest wearing nothing but shorts and shoes, but failed to reach the summit due to a recurring foot injury.
2008: He broke his previous world record by staying immersed in ice for 1 hour, 13 minutes and 48 seconds at Guinness World Records 2008. The night before, he performed the feat on the Today Show.
2009: In February Hof reached the top of Mount Kilimanjaro in his shorts within two days. Hof completed a full marathon (42.195 kilometres (26.219 mi)), above the arctic circle in Finland, in temperatures close to −20 °C (−4 °F). Dressed in nothing but shorts, Hof finished in 5 hours and 25 minutes. The challenge was filmed by Firecrackerfilms, who make productions for BBC,Channel 4 and National Geographic.
2010: Hof again broke the ice endurance record by standing fully immersed in ice for 1 hour and 44 minutes in Tokyo, Japan.
2011: Hof broke the ice endurance record twice, in Inzell in February and in New York in November. The Guinness World Record is now set for 1 hour and 52 minutes and 42 seconds by Hof. In September, Hof also ran a full marathon in the Namib Desert without water. The run was performed under the supervision of Dr. Thijs Eijsvogels.
In this documentary, Wim accompanies two young students up a mountain barefoot in shorts. He trains them in the breathing technique and the final result is astounding.