Solar energy has been a major contender in the energy battle for years. One of it's biggest setbacks, however, has been that no sun means no energy. Cloudy days greatly reduce the amount of energy a panel can absorb. Japanese-French Laboratory for Next generation Photovoltaic Cells may have the solution; bring the solar panels above the clouds.



E. JULLIEN/PIXSCIENCE
Huffington Post discovered "The researchers are investigating how to use mostly lightweight polymers to make giant solar panel balloons equipped with generators. The balloons would be tethered to the ground, and their cables would transmit the electric power down to Earth. The diagram below explains the idea."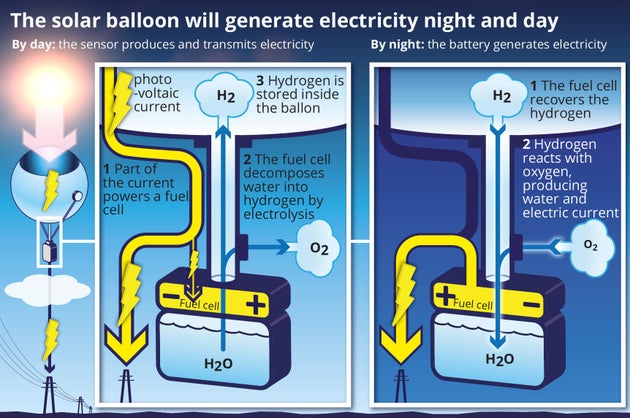 "You get much more light up there," Jean-Francois Guillemoles, co-director of the NextPV lab, told The Huffington Post. "There is a potential that generated electricity from this technology, when mature, could be made at costs much lower than that of coal."
Though this sounds promising, it seems we hear of great advances in renewable energy technologies every day, but we still rely on digging up the toxic remains of dinosaurs as our main source of energy. Unfortunately, this is a political issue that still doesn't seem to be on many politicians agendas.

It may be a financial risk to pursue, but as David MacKay says in the TED Talk Below, it's worth it: